The future of in-store technology
The future of in-store technology.  There are an increasing number of technologies available to retailers that have the potential to enhance both their operations and the experience they can provide customers.
In a competitive market, innovation is necessary to guarantee that you keep your business alive and lucrative.
You can use this to your advantage at the point of sale to make your product more attractive and boost sales.
New technologies ensure that you can attract more customers and increase your sales.
People love technology. Whenever a new phone comes out, a new television, a new watch, everyone wants it. People are not afraid of trying new things or new technologies; they are excited and can't wait to do new things.
Want to know more? Check out the reasons below to start using them at your point of sale!
1. Delight the customer with technology at the point of sale and close more deals
There are an increasing number of technologies available to retailers that have the potential to enhance both operations and customer experience.
Companies are more likely to be successful if they embrace these opportunities and experiment with new technologies. Especially those that enhance operational efficiency and provide a better customer experience.
In-store technology can serve at essential customer touchpoints and assist with frontline employee tasks. These new technologies can make the shopping experience more exciting, easier, and more convenient.
For example, today's customers assume an integrated omnichannel experience where they can order online and pick it up in the store.
Furthermore, the sales process gains a new dimension and infinite resources using interactive solutions: videos, 3-dimensional demonstrations, complete information catalogues, visits, and virtual test drives.
2. Using technology to stand out in the market
Despite all the wonders that new technologies can offer, they are still not widely used by companies at points of sale.
It is still common for companies to rely on conventional methods to display their products, such as folders and posters.
Therefore, when an entrepreneur decides on innovative technologies at the point of sale, he manages to get ahead of the competition and stand out in the market.
For example, sports stores in shopping centres. What's the difference between them? Almost none, as they all work with a mix of similar products and there is little difference in prices.
Now imagine stores with interactive screens that help customers identify the most suitable shoes for each sport and help them compare the different options available. Sounds impressive, right? Add a perfect illumination, exciting music, and excellent and fast customer service. This store will undoubtedly have more customers simply because it offers a better place, vibe, and service.
3. What are your highest costs today? Technology can help reduce your expenses.
Do you spend a lot on human resources, training, staff, and salespeople? This is often the highest cost for many retailers.
Maybe it's time to test self-service totems. Let customers use interactive screens to get information or access services. It's cheaper and faster. Let them buy and pay for their products. Self-checkout can be a good ally for cutting some expenses.
Perhaps your fixed cost with leasing and point-of-sale structure is high. Renting is not cheap, especially in shopping centres or big cities. With technology, you can have smaller stores. Interactive screens become digital showcases and infinite shelves.
How about showing your products and services with Showcase? An interactive catalogue lessens your need for inventory. Change logistics with distribution centres and customer delivery. For many industries, this makes a lot of sense.
4. Reinforce the brand image
Another good reason for you to adopt new technologies at the point of sale is to reinforce your company's image.
They will make your brand more memorable and increase your consumer reach through customer impact.
By heightening the senses through videos, images and sensations, and music, the company can improve the customer experience and leave its mark.
Consider, for example, the real estate industry. Some of their sales are made while the building is still in the construction phase, and there is almost nothing to show. Then, what is being marketed is a promise that it will be a significant undertaking.
If models were a way of making the building tangible in the past, now there is digital technology. Using technological innovation helps to sell and creates a positive image of the company itself.
5. Retail of the future, today
What will retail be like 100 years from now? Perhaps very like to the current one. Despite advances in technology today, we still need stores and products.
Think about it: what has changed in physical stores in the last few centuries? We have new products, new payment methods, better packaging design, barcodes… But the experience is still similar. You still go in, choose something, pay and leave, usually with the help of a salesperson in the process.
Consumers are increasingly demanding and well-informed. They have many options at their disposal, so it's not easy to please them. However, the store has a great asset: it has the product that the customer wants and needs. The desire already exists. Now it is just a matter of turning it into a sale.
In the future, stores may guess what the customer wants. Or maybe 3D printers will produce items precisely as the customer wants. Current technology does not allow for all of this yet, so it's better to use your resources to provide good service. During this process, ask questions and seek to understand the consumer's desires.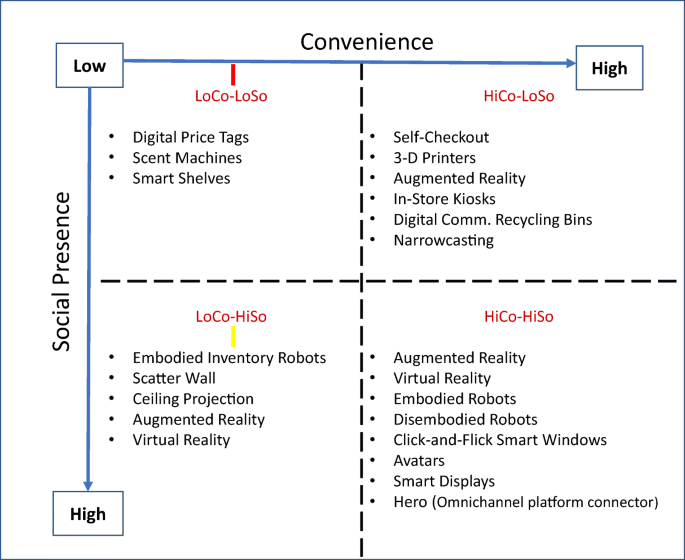 Typology of new and futuristic in-store technology infusion
6. Multiply
I imagine you want to grow, increase your sales, and conquer new markets? Excellent.
What is your plan for this? There are many ways to grow, but some are more difficult than others.
The worst way is to spend a lot of money. The return on your investment can be time-consuming and have many uncertainties.
The best way to grow is with intelligence and technology. You might not need ten times more stores and ten times more employees to be ten times bigger. How about rethinking your business model?
Networks and franchises can expand with mini franchises. Discover your strengths and exploit them. Identify your weaknesses (costs, losses) and cut them in the new format.
Concept stores and popup stores have already shown that size does not matter. Use technology to present and sell your products differently.
Stores inside stores are efficient. How about taking your company to new spaces, preferably with a large circulation of people?
Bring online and offline closer. People can buy or meet your business in real time. The product can be delivered at home. Use apps and e-commerce to expand your store.
Conclusion
The time is now!
New technologies allow companies to adapt to the latest consumer profile, which is increasingly connected and demanding.
By enabling greater interactivity, all these innovations attract audiences and increase sales for your business. What are you waiting for?
Who are we?
Retail Solutions is a market-leading EPOS provider with over 25 years of business experience. Our leading sectors are convenience stores, supermarkets, forecourts, and pharmacies.
We are dedicated to providing your store with the most up-to-date and reliable point of sale hardware and software management tools to help you manage your business effectively.
To find out more about what we do, get in touch to chat with one of our knowledgeable consultants:
About the author:
Juliane Camozzato is a Marketing Executive at Retail Solutions. You can follow her on LinkedIn!